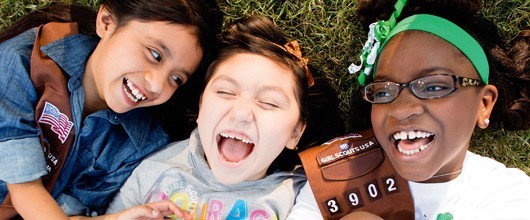 Who We Are
We Are Girl Scouts.
Girl Scouts bring their dreams to life and work together to build a better world.
Through programs from coast to coast, Girl Scouts of all backgrounds and abilities can be unapologetically themselves as they discover their strengths and rise to meet new challenges—whether they want to climb to the top of a tree or the top of their class, lace up their boots for a hike or advocate for climate justice, or make their first best friends.
Backed by trusted adult volunteers, mentors, and millions of alums, Girl Scouts lead the way as they find their voices and make changes that affect the issues most important to them. 
Our Mission
Girl Scouting builds girls of courage, confidence, and character, who make the world a better place.


Girl Scout Promise 
On my honor, I will try:
    To serve God and my country,
    To help people at all times, 
    And to live by the Girl Scout Law.
 
Girl Scout Law
I will do my best to be
    honest and fair,
    friendly and helpful,
    considerate and caring, 
    courageous and strong, and
    responsible for what I say and do, 
and to 
    respect myself and others, 
    respect authority,
    use resources wisely,
    make the world a better place, and 
    be a sister to every Girl Scout. 
 
Girl Scout Family Promise
On my honor, I will try:
To support my Girl Scout
And her troop,
To help girls lead at all times,
And to always keep it fun!

DNA of a Girl Scout
Girl Scouts are more likely than non-Girl Scouts to embrace new experiences and overcome failure, to self-identify as leaders and take on leadership roles, to practice resiliency and persist through challenges, and have stronger female networks of all ages, just to name a few.
Our founder, Juliette, was an everyday leader---She was entrepreneurial and assertive, independent and inspiring, purpose driven and imperfectly perfect. She could sew a button and shoot a gun. She valued tradition but thrived in the face of innovation. She had vision like Jane Goodall, endurance like Simone Biles, inspired a following like Taylor Swift, and practiced empathy like Oprah. She never made things look easy, but always made it worthwhile.
It's fair to say this attitude—these traits, this DNA—represents not just Juliette but all of us here today.  
Our DNA, like Juliette's, shows the world who we are as Girl Scouts, who don't stand by, but step up to make a difference and take the lead.