Silver Award Girl Scouts
        
The Steps:

Step 1: Complete a Cadette-level journey. This can be started as a 6th grader. The options are Breathe, aMAZE, and MEdia.
Step 2: (Strongly Recommended) – Attend a Strive for Silver class. This is a 75 minute class that will walk you through all the rules and guidelines, and answer all your questions about Silver.
Step 3: Select a Project Advisor. A Project Advisor is any adult who has expertise in the area of the girl's project. This person does not need to be a Girl Scout.
Step 4: Select a Silver Award Mentor – these are trained volunteers who will review your project proposal to make sure it's meeting all of the requirements. They will also serve as a resource for advice while working on the project. Your mentor must sign the proposal before submitting it to council.
Step 5: Decide on an idea and write up a Project Proposal. Submit proposal to silveraward@girlscoutshh.org or to the Poughkeepsie Office (3 Neptune Road, Poughkeepsie, NY 12601 Attn: Silver Award)
Step 6: Work on your project as approved by your mentor and council. If you need to make changes, be sure to talk to your mentor first.
Step 7: Complete the Project– After completing your project, you'll need to fill out a Final Report and get it signed by your mentor and advisor and then submit it to council.
Step 8: Celebrate! In November of each year, all Silver Award recipients are invited to a council-wide Ceremony. You will receive your pin and certificate at this ceremony.



Some Deadlines:
Project must be completed, including paperwork and submission, by September 30th of a girl's 9th grade year.
To be eligible for this November recognition ceremony, paperwork should be submitted by September 30th of that year.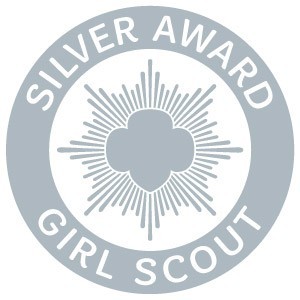 Do Something Every Day that Improves the Lives of Those Around You
The Girl Scout Silver Award is the second highest award in Girl Scouting. It represents a girl's accomplishment within Girl Scouting and her community as she works to improve not only her life but the lives of all around her.
For more detailed information, please see the Girl Scout Silver Award Guidelines and the Adult Guide to the Silver Award (English,  Español).
Girls are asked to contribute 50 or more hours in a Take Action project that will improve some aspect of their community that they feel passionate about or where they feel they can inspire positive change. They are asked to use skills gained over the years, incorporate lessons gained from the journey they completed, and as always, take the Girl Scout Law and Promise to heart.
You can pursue your Girl Scout Silver Award if: 

You're in sixth, seventh, or eighth grade (or equivalent)



You're a registered Girl Scout Cadette 
 

You have completed a Cadette Journey
 
For questions or more information, please contact our Girl Award hotline at (914) 747-3080 x229 or (845) 452-1810 x229 or silveraward@girlscoutshh.org