Gold Award Girl Scouts
Issues of the world, meet your match. 

Gold Award Girl Scouts are the dreamers and the doers who take "make the world a better place" to the next level.
The Girl Scout Gold Award is the the mark of the truly remarkable—proof that not only can she make a difference, but that she already has.
Seniors and Ambassadors who earn the Gold Award tackle issues that are dear to them and drive lasting change in their communities and beyond. Think of the Gold Award as a key that can open doors to scholarships, preferred admission tracks for college, and amazing career opportunities.

Do Something Every Day that Changes the World
If you are in grades 9-12, you have the option to begin on your journey towards Gold. The Gold Award is your chance to combine your passions, your previous accomplishments, and your dreams to make the world a better place. Let's Go Gold!
If you find you have questions while planning or working on your project, shoot us an e-mail at goldaward@girlscoutshh.org or give us a call at 845.452.1810 ext.229



The Steps:
Step 1: If you have already done your Silver, you need to do one Senior or Ambassador Journey. If you haven't earned Silver, you will need to complete two Journeys.
Step 2: (Strongly Recommended) – Attend a Going for Gold class. This 75 minute class will walk you through all the rules and guidelines, and answer all your questions about Gold.
Step 3: Decide on an idea and write up a Project Proposal. 
Step 4: Select an Advisor – this is an adult who is able to give you permission to do your project at their organization/location and will be there to answer project-specific questions along the way. An Advisor might be a park ranger, a teacher, a doctor, or a volunteer.
Step 5: Come in for a Committee Meeting – We hold meetings once a month in each of our five offices. At your committee meeting, you will meet with various Mentors and council staff to talk about your hopes for your project. They will ensure you are on track to meet the requirements for Gold, and then sign off on your project. You will be assigned a Mentor who you can talk to throughout your project as questions arise.
Step 6: Work on your project as agreed upon at your committee meeting, and keep in touch with your Gold Award Mentor
Step 7: Complete the Project– After completing your project, you'll need to fill out a Final Report and come back in for a final interview. You'll meet with the Mentors and staff again and showcase all that you have accomplished.
Step 8: Celebrate – In March of each year, all Gold Award recipients are invited to a council-wide Ceremony. You will receive your pin and certificate at this ceremony.
Some Deadlines:
Project must be completed, including paperwork and exit interview, by September 30th after you graduate High School.
To walk in the annual March Ceremony, paperwork must be turned in by January 1st of that year, and you must attend a January exit interview.
To request a committee meeting date, paperwork must be turned in two weeks prior to the requested date.
Useful Links:
Tips and Tools:

Money Earning Guidelines for Gold
Samples:

Map It – Projects from around the country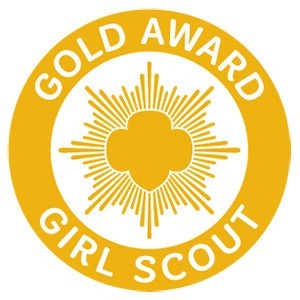 You can pursue your Girl Scout Gold Award if:
 

You're in high school (ninth through twelfth grade, or equivalent) 
 

You're registered as a Girl Scout Senior or Girl Scout Ambassador
 

You have completed two Senior or Ambassador Journeys OR earned the Girl Scout Silver Award and completed a Journey
 



The steps below are provided by GSUSA and are meant to be used as a general guideline for girls across the world interested in pursuing Gold. For specific action steps to ensure your project is approved by Girl Scouts Heart of the Hudson, please refer to the step-by-step directions listed above.
Girl Scout Gold Award Steps


Investigate your issue thoroughly
 

Get help and build your team
 


Present your plan and gather feedback