Shop Hours 
 
Kingston:
(65 St. James St.)
Closed Daily from 1 - 2 for lunch
Tuesday, Wednesday & Thursdays
9 - 5 pm
Saturday  12/3  - 9 - 1pm
 
Middletown:
(162 Bloomingburg Road)
Closed Daily from 1 - 2 for lunch
Closed 12/23  through 1/2/17
November and December Hours
Monday  - Closed
Tuesday & Thursday 9 - 5
Wednesday 9 - 6
Friday 8 - 5 pm
Saturday - 12/10  9 - 1pm


New City:
(211 Red Hill Road)
Closed Daily from 1 - 2 for lunch
Closed 12/23  through 1/2/17
November and December Hours
Monday  - Closed
Tuesday & Wednesday 9 - 5
Thursday 9 - 6
Friday 8 - 5 pm
Saturday - 12/3  9 - 1pm


Pleasantville:
(2 Great Oak Lane)
 November and December Hours
Monday  9 - 5pm
Tuesday, Wednesday & Thursday 9 - 6pm
Friday 8 - 5 pm
Saturday  9 - 1pm
 11/19, 12/3, 12/17     

Poughkeepsie
(3 Neptune Road)
Closed Daily from 1 - 2 for lunch
November and December Hours
Monday  - Closed
Tuesday* & Thursday 9 - 5
*Tuesday 12/13 - closing at 3pm
Wednesday 9 - 6
Friday 8 - 5 pm
Saturday,  12/10  9 - 1pm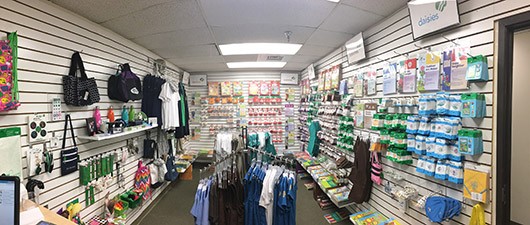 In our shops you will find everything needed to implement the Girl Scout leadership programs for girls of all ages. You will also have many options to show your Girl Scout pride through clothing, gift items and much more.

Please contact us at onlineshop@girlscoutshh.org if you are looking for something that you do not see here. We may be able to help you via email. 

If you would like to use your cookie gift cards, please call one of our shops and we can help you with a phone order, or come in and browse through our shops.
Locations
162 Bloomingburg Road
Middletown, NY  10940
211 Red Hill Road
New City, NY  10956
2 Great Oak Lane
Pleasantville, NY 10570
2600 South Road
Poughkeepsie, NY 12601