Thank you to the more than 1,400 girls that renewed on or before April 15th and earned the Early Renewal Patch! Patches will be distributed to Service Units shortly. Renew by April 30th and earn the opportunity to register and attend our Banana Split Extravaganza on May 21st at Rock Hill Camp or June 17th at Camp Wendy! Click "continue" for a list of all incentives. All incentives are cumulative. Register by April 15th and receive all incentives. Additionally, this year, you can pay for your membership registration with cookie credits!
Continue >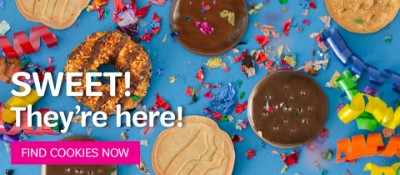 Our cookie cupboards are in full swing! Check out our cookie cupboard locations in Kingston, Middletown, New City, Pleasantville, Poughkeepsie, Tuck-East, and West Lakeland. Read more for hours.
Continue >

This year, the Girl Scout Cookie Season had a record breaking demand for S'mores. As a result, our baker, Little Brownie Baker (LBB), cannot fulfill all of the orders for the S'mores cookies – which will give our Cadette, Senior, and Ambassador Girl scouts an opportunity to demonstrate some of their stellar business skills!
The good news? Affected Girl Scouts will still receive the money owed to them for the number of S'mores boxes sold during Initial Order
Continue >

April Currents - Membership Renewal, Camp, New Women's Suffrage Patch, and Silver Mentor Trainings
March Currents - Initial Order, Shop News, Camp Discount and an Engineering Expo
February Currents - Earn a Journey in Europe, Adult Recognition, 2017 Convention, and New Leader Training
Continue >