Kick off your next Girl Scout year with access to brand new, girl-tested and approved programming and volunteer-driven enhancements! Starting Tuesday, July 18, you'll find 4 new Journeys as well as 38 new badges and Journey awards to choose among, including the first-ever Daisy Outdoor and Citizen badges!
Continue >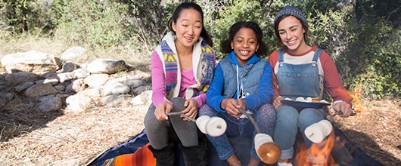 Join us for a National S'mores Day celebration! You'll have the chance to make your own s'mores, take part in hands-on STEM activities and crafts, and join Girl Scouts for a full year of doing s'more the G.I.R.L. (Go-getter, Innovator, Risk-taker, Leader) ™ way. So, bring your family and your friends, and show them what Girl Scouts is all about!
Continue >

Girl Scouts do amazing things every day. They might build robots, fight bullying, and make their communities better in more ways than we can count.
Check out the amazing ways girls, volunteers, and alumnae are changing the world!
Continue >

July Currents - Girl Fest is open, Cookie Credit Makeover, Vote on Cookie Sale Rewards, and 2018 Programs

June Currents - National Convention, Operation Cookie Drop, and STEM opportunities for Seniors and Ambassadors
May Currents - Membership Renewal, Camp like a G.I.R.L, Cookie Cupboard Dates extended, and Upcoming Programs
April Currents - Membership Renewal, Camp, New Women's Suffrage Patch, and Silver Mentor Trainings
Continue >