Today Girl Scouts announced the 2017 National Young Women of Distinction, and Girl Scouts Heart of the Hudson is ecstatic to recognize Elizabeth Klosky, Cornwall, among them.
Continue >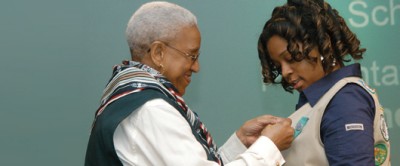 The Prudential Spirit Award is given to young people on the basis of their volunteer service. We urge you to encourage girls who have volunteered over the past year to participate in the 2018 Prudential Spirit of Community Awards. Girl Scouts who earned Bronze, Silver, or Gold Awards may be particularly good candidates. Girls can apply online now through November 7th.
Continue >

Kick off your next Girl Scout year with access to brand new, girl-tested and approved programming and volunteer-driven enhancements! Starting Tuesday, July 18, you'll find 4 new Journeys as well as 38 new badges and Journey awards to choose among, including the first-ever Daisy Outdoor and Citizen badges!
Continue >

Girl Scouts do amazing things every day. They might build robots, fight bullying, and make their communities better in more ways than we can count.
Check out the amazing ways girls, volunteers, and alumnae are changing the world!
Continue >

November Currents - PepsiCo Mentorship Program, Teen Leadership Conference, Camporee Volunteer Committee and Nuts+Mags
October Currents - Military "Share" Program, Taste of Home Program Opportunity, Prudential Spirit Awards, and international service trip
September Currents - Renew and Earn $5, Nuts+Mags (Fall Product Sale), Fall Programs, Find us on Radio!
Continue >