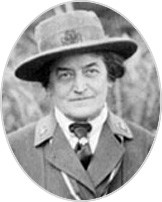 In honor of Girl Scouts' leadership ideals, Girl Scouts Heart of the Hudson will honor a young adult Girl Scout alumna who has demonstrated exceptional leadership in her professional or volunteer life.
The Annual Girl Scouts Heart of the Hudson (GSHH) Juliette Gordon Low Leadership Award will be presented at the GSHH Leadership Luncheon honoring our Community Partners, scheduled for Thursday, March 16, 2017 at Brae Burn Country Club, Purchase, NY.
The nominee should be a young woman between the ages of 21 and 35, who participated in Girl Scouting as a girl for at least three years, and has distinguished herself as an exceptional leader in her chosen profession and/or current volunteer capacity in her community. The nominee needs to have held a leadership position for a minimum of one year either in a professional, community or volunteer role. The GSHH Juliette Gordon Low Leadership Award nominee should embody the tenets of the Girl Scout promise and law.
Continue >

Every day, as a Girl Scout volunteer, you help girls do all this and so much more. This November, you can double that impact by inviting a friend to join you on this life-changing adventure. Not only will you be giving girls another hero they can depend onto help them find their spark, but you and your friend also get a fun prize!
That's right. Invite your friend to volunteer, and once they've formed a Girl Scout Daisy, Brownie, or Junior troop…
1. You get $50 to spend at Girl Scouts' official online store—sweet!
2. Your friend gets awesome resources (a $50 value!) to help them get their troop up and running—so cool!
3. Plus, when you double the friends, you double your prize…$100 for you and a Volunteer Resource Pack for each friend—awesome.
Continue >

Girl Scout S'mores Cookies are Coming
Heard the latest cookie news? We're adding Girl Scout S'mores™ cookies, a s'mores-inspired crunchy graham sandwich cookie with creamy chocolate and marshmallowy filling, to our 2017 lineup!
Continue >

December Currents - World Thinking Day, Volunteer Recognition, JGL Leadership Award, etc.
November Currents - Teen Leadership Conference, STEM Mentorship program, Macy's Parade Winner, The GS Challenge, and more
October Currents - New membership year announcements: Programs open, FPS, Elliot Wildlife Programs
Continue >