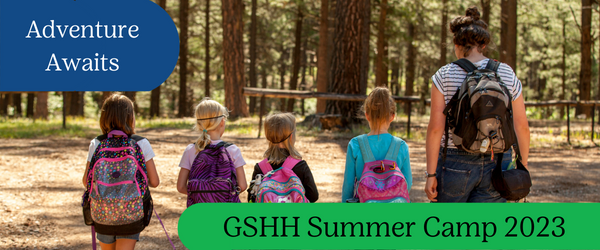 Summer may be over,
 but it's never too early to think about Summer Camp!

The 2017 Camp Brochure will be available online on December 8th, and the 2017 Camp registration will open on January 10th.
Girl Scouts Heart of the Hudson has three camps to give girls a fantastic summer while learning skills, making new friends and creating memories. We have day camp and resident camp options for girls.
Our Camps:
Rock Hill Resident Camp
Set on 200 beautiful wooded acres with an amazing lake in Mahopac, NY.  Rock Hill Camp is great summer retreat for girls.
Camp Sessions are Sunday through Friday with one-week, two-week, and three- week session options. Girls may choose a session with a tent or cabin stay.  Sessions are available for girls entering 3rd grade to 10th grade. 
Rock Hill has boating, arts and crafts, outdoor cooking, ropes courses, a zip line,  archery, hiking, and nights filled with campfires.

Camp Addisone Boyce Day Camp
Located in Tomkins Cove, Rockland County
Camp Sessions are Monday through Friday 9 am to 4 pm with one- week or two- week options.
There are sessions available for girls entering 1st through 10th grade.
Bus Transportation is available at locations in Rockland County and Lower Orange County.
Camp Addisone Boyce's facility allows girls to experience archery, ropes courses, boating, swimming, fishing, and so much more.

Rocky Brook Day Camp
A wooded island nestled in an urban setting in Eastchester, lower Westchester.
Camp Sessions are Monday through Friday 9 am to 5 pm. There are early drop off and late pick up options available.
We offer two-week sessions for girls in Kindergarten through 9th Grade.
Rocky Brook offers traditional camp activities such as arts and crafts, games, sports and nature.
Every session includes trips to exciting places, as well as a trip to our sister residential camp to participate in boating, hiking, and swimming.