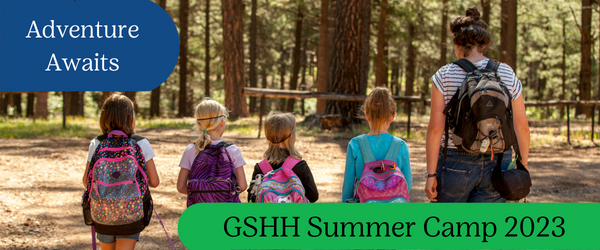 Camp Registration is Open for Summer 2018!!
The single-gender, girl-led, girl-planned environment creates a safe space for girls and young women to thrive. When societal pressures disappear, individuality and creativity flourishes. Through spending time with others who have similar interests and having counselors who respect and challenge them, campers gain a better understanding of themselves and their leadership potential. At camp, they gain both independence and self-confidence. 
To Register:
All sessions are listed in chronological order; if you know the name of the specific session you want to enroll in, you can type that into the keyword search at the top of the page. 
Other helpful documents:
Whether it's your first year at camp, or you're a seasoned camper, everyone is accepted, encouraged, and fully embraced for their uniqueness.


 Girls who have GS Experiences at Camp:
72% of girls improved a skill
48% helped others do an outdoor activity
Are 2x as likely to take action to protect the environment
We have day camp and resident camp options for girls.

Our Camps:


Rock Hill Resident Camp
Set on 200 beautiful wooded acres with an amazing lake in Mahopac, NY.  Rock Hill Camp is great summer retreat for girls.
Camp Sessions are Sunday through Friday with one-week, two-week, and three- week session options. Girls may choose a session with a tent or cabin stay.  Sessions are available for girls entering 3rd grade to 12th grade. 
Rock Hill has boating, arts and crafts, outdoor cooking, ropes courses, a zip line,  archery, hiking, and nights filled with campfires.

Camp Addisone Boyce Day Camp
Located in Tomkins Cove, Rockland County
Camp Sessions are Monday through Friday 9 am to 4 pm with one- week or two- week options.
There are sessions available for girls entering 1st through 10th grade.
Busing available for Rockland, Lower Orange, and Northern Westchester Counties
Camp Addisone Boyce's facility allows girls to experience archery, ropes courses, boating, swimming, fishing, and so much more.

Rocky Brook Day Camp
A wooded island nestled in an urban setting in Eastchester, lower Westchester.
Camp Sessions are Monday through Friday 9 am to 5 pm. There are early drop off and late pick up options available.
We offer two-week sessions for girls in Kindergarten through 10th Grade.
Every session includes at least one exciting field trip, as well as a trip to our sister residential camp to participate in boating, hiking, and swimming.
Rocky Brook offers traditional camp activities such as arts and crafts, games, sports and nature.

 Want to Know More?
More Than S'mores was a report created by the Girl Scout Research Institute to outline all the benefits of outdoor exploration and education, especially through the summer camp experience.